:: Youth & Eternity ::
I do think marriage to be a most dreadful occupation...
[2004-08-28 @ 5:01 p.m.]
YAY! I LOVE English projects. Lookee at my interpretation of Heathcliff in "Wuthering Heights"...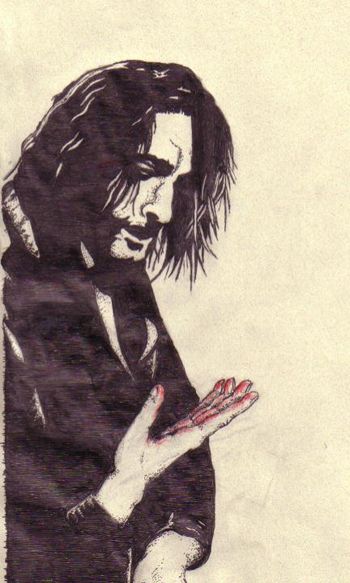 I sorta based it on this bit of art I found that someone did of Noah Percy in "The Village" (played by the utterly incomparable Adrien Brody), and I changed it up a bit, and added a lot more ('cuz originally it was just a face). It's all in pen but for the blood on his hands, which is in red coloured pencil. Do you like? It's going straight in my Wuthering Heights scrapbook. Now I just have to draw a few more, and print out pre-painted versions of the rest, and then type some stuff up and paint the moors and design the houses and... then I have to do it all over again for one more book. I think this might take me more than a week... heh, I'll pull it off. I'm the amazing procrastinator!
Anyway, my sweet doggie Jazzi J is a bit under the weather. She puked once a day or so ago, and seems to be burping a lot. She's not acting too much different, but I'm worried. We don't know how old she is, the vets couldn't tell from all the abuse she went through before we got her, she's anywhere from 4 to 10 years old. She's really muscular, though, and very energetic, so I'd think she's younger than elderly. She's such a sweet dog, I've never met such a loving animal in my entire life. I don't know what I'd do without her... That's why she has to get better. I already told her so.
Other than that, I've just been doodling away all day long. Typing a few enraged emails. I even got to write a letter to the actual Democratic Election Commitee for my gammie. She received a picture of John Kerry in the mail, and a "We hope you'll send us money so we can get Kerry into office..." thing. The presentation was very nice, actually. I had a lot of fun burning it, then ripping it apart and throwing it away. Ahh... politics are fun. So I wrote a nice, rather agreeable letter to them saying, basically, that everything sent will not be proudly displayed but properly disposed of in favour of banners to support the current, and hopefully future, president. Blahblahblah. It was very professional, but yet very rude. I liked it. I pat myself on the back for it. Good Republican, good Republican!
Anyway... that covers art... politics... animals... that's about it. I can't believe that I get to draw Adrien Brody for English class. This so rules.....
Oh, and I'm very much out of quotes, so I basically summed up something along the lines of something that Gwendolen Harleth said in Daniel Deronda. She's cool, very manipulative. I like that. And I have to agree with the quote, too.

SILENCE, TRAITOR! - 2006-05-10
Irish History - 2006-05-02
Goodbye Bio! - 2006-05-01
DANCE, WATER! DANCE! - 2006-04-26
Gaaaaaah. - 2006-04-24

Credits
Layout was made by
Emerald Ice
for use at
Frozen Ice
.
Image credit goes to
Squaresoft
.