:: Youth & Eternity ::
Sweet Noodle Pop?
[2005-10-28 @ 12:03 p.m.]
*dies*
I NEED THAT NEW LAYOUT! NOW!
That said and out of the way, I have a little something I want to say. It's not directed to one person in particular, but everyone in general. Friends, strangers, countrymen, let me just say that you don't have to depend on anyone but God. Girls, you don't need boys to live your lives. Boys, you don't need girls to live yours. Why feel lonely when the Almighty God is your best friend?
That, in turn, having been said, my college is dumb. I spent an hour scheduling, running back and forth between buildings, looking for the right PIN to register my new classes. I always have one ankle that hurts if I run too much, and if feels like it's swollen and nasty. My bathroom ceiling is leaking (as if the shower and sink weren't enough). Leaking brown water of all things. So. Who's up for transfer?
But I'm taking a Studio Art and Irish Lit. Exciting! And, well, some general education, but that goes without saying. Being free of theatre is... erm... liberating.
Another addition to my Dummy's Guide to Redundancy for Dummies.
I swear I keep typing in Engrish. I have to catch myself and fix it. I blame Miyavi. I mean, look at the guy!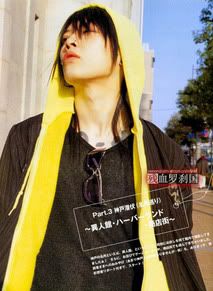 Rawk on. Rawk on. Pop is dead. Indeed.
But not Sweet Noodle Pop.
WHOA! I'm a nerd. Okeedokee, just wanted to let you all know that I'm alive. Hugs to everyone!

SILENCE, TRAITOR! - 2006-05-10
Irish History - 2006-05-02
Goodbye Bio! - 2006-05-01
DANCE, WATER! DANCE! - 2006-04-26
Gaaaaaah. - 2006-04-24

Credits
Layout was made by
Emerald Ice
for use at
Frozen Ice
.
Image credit goes to
Squaresoft
.