:: Youth & Eternity ::
Wow.
[2006-02-14 @ 6:49 p.m.]
I think I have a lot of catching up to do.
I'll get to reading the five million diary entries from everyone I've missed, I promise. I just have a lot of work to keep up with as it is.
My schedule this semester is killing me, not to mention the four or so hours of volunteer work I do every week. I don't even have time to play video games! (Tragic, I know.)
I guess I'll catch you guys up instead: I'm taking art, Irish lit, biology and a subsequent (TWO HOUR!) lab, leadership, and anthropology. For which I have a paper to type tonight. Should be fun. I also volunteer as a children's tour guide at a local museum every week. No time for clubs anymore... before I got here, I was excited about campus involvement, now I'm already looking forward to a transfer. I'm hoping to go to Old Dominion University instead, it's much bigger, but there's more art and literature... and Japanese! I want to learn that so I can work in the gaming industry as an artist; most companies require that you be bilingual. Plus, it's one step closer to my goal of knowing eight languages before I die.
I turn 19 in less than a month... I feel terribly old all of a sudden! Call it a quarter life crisis if you must. I can't do cool things anymore. Like go without shoes in public. It's a good thing I've given up maturity in the workforce, picking gaming as I *suddenly* have... that way I can watch cartoons in the morning without fear. Where would I be without Avatar and Fairly Oddparents? (A. Lost, B. Better Off, C. OMGJOSHGROBAN!, D. All of the above.)
If the early morning counts, I don't know what to do with myself without Samurai Champloo or Evangelion. That's another story for another day.
Um... beyond that I have a bunch of icky sketchy artwork for you to pretend to like. Have fun!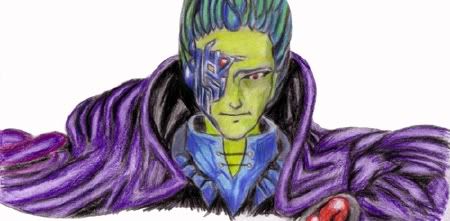 (CATS, "All your base are belong to us.")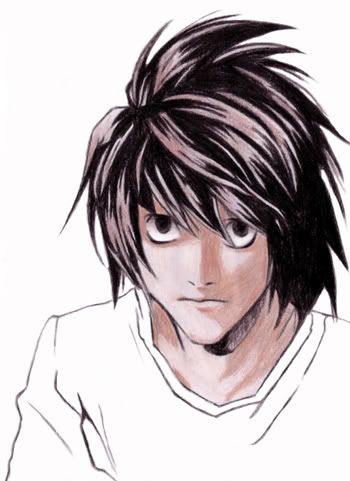 (L, from Death Note [ie, best manga/comic book in existence. Read it. Now. Better than Naruto. Promise.])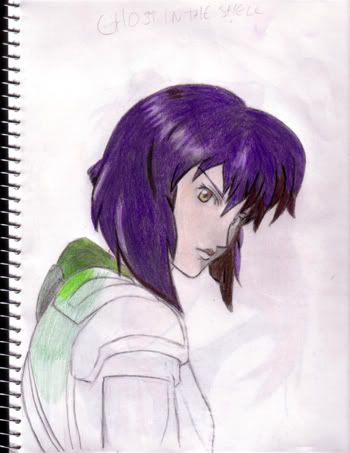 (Ghost in the Shell... erm, unfinished)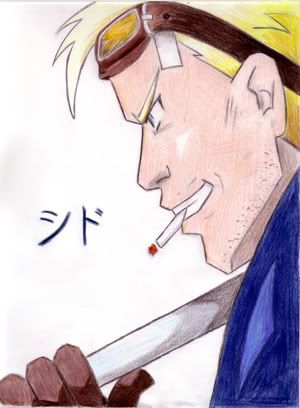 (Cid Highwind, Final Fantasy VII, #$%&)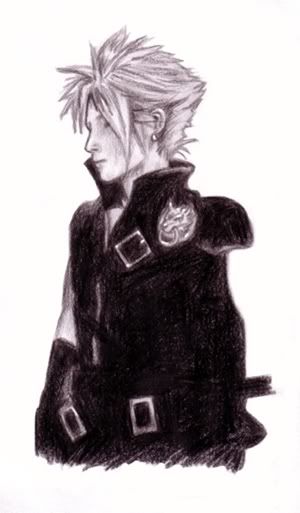 (Cloud Strife, Advent Children... it's just a quick sketch of something I was going to to in depth later... I have this weird Cloud fetish lately, he's adorable)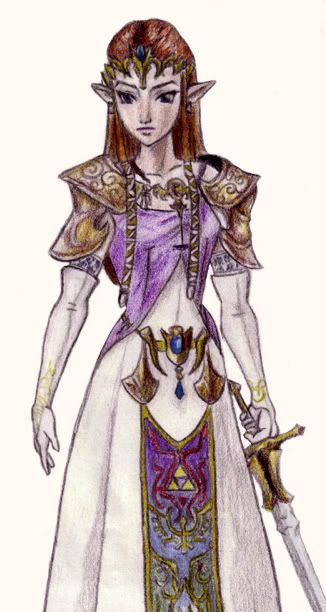 (Zelda, Legend of Zelda: Twilight Princess... which, like Kingdom Hearts 2, is just a myth)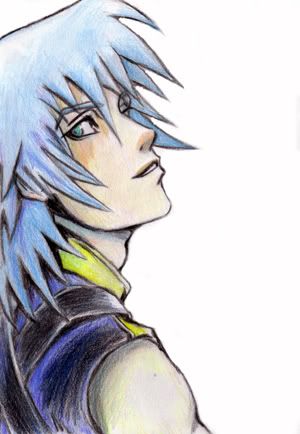 (Speaking of KH, Riku... the evil ones are always the best looking)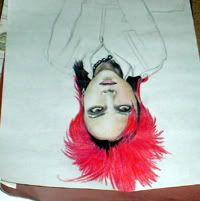 (Erm, unfinished upside-down hide [the guitarist of the band X-Japan, also a soloist until his death on March 2nd, 1998]... I finished it, but it didn't photograph well unless it was upside-down. Weird, I know.)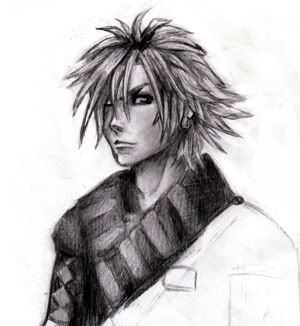 (AGAIN unfinished. Shuyin of FFX-2)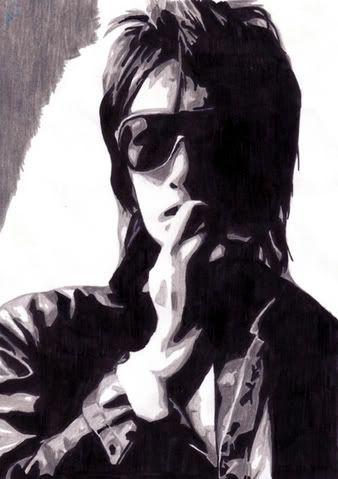 (Toshiya, bassist for Dir en grey. A Japanese rock band that's worth a listen if you haven't heard them. Try "Child Prey" since it's in [bad] English.)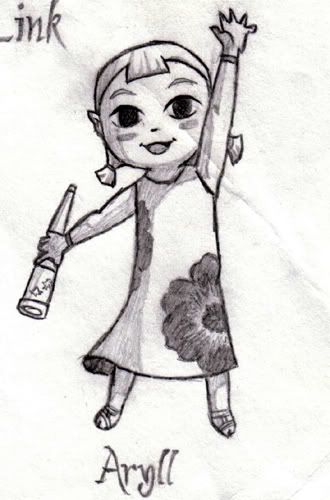 (Aryll, Legend of Zelda: Windwaker)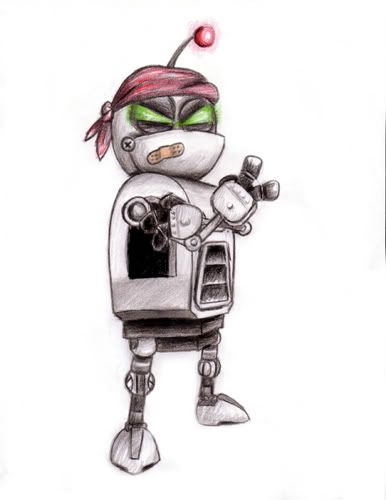 (Pimp Clank, Ratchet and Clank Series... I should submit that someplace...)
***
Honestly, of all that I'm not sure what I've already posted and what I haven't. I'm sorry if there are repeats, I just wanted to play it safe. I was gonna play the, "Guess if that JRocker is a boy or a girl!" game, but I figured this: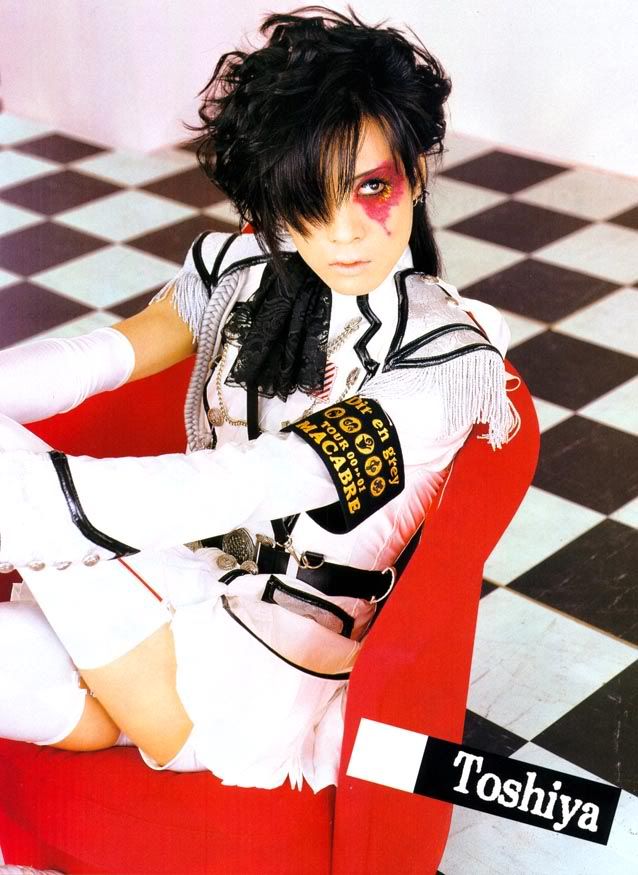 wouldn't be appreciated so much. Poor Totchi and his Sgt Pepper skirt.
Well, I've missed you guys! *big hugs*

SILENCE, TRAITOR! - 2006-05-10
Irish History - 2006-05-02
Goodbye Bio! - 2006-05-01
DANCE, WATER! DANCE! - 2006-04-26
Gaaaaaah. - 2006-04-24

Credits
Layout was made by
Emerald Ice
for use at
Frozen Ice
.
Image credit goes to
Squaresoft
.