:: Youth & Eternity ::
Illustration Friday
[2005-02-18 @ 5:35 p.m.]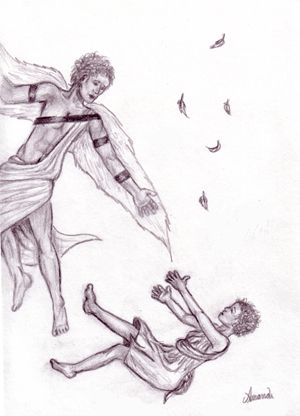 Illustration Friday's topic this week was "Flight". Sorry so late.
And sorry it was so bad. It's my first try. It's Icarus and his daddy-o, Daedalus.
The story is as follows: Daedalus created the Labyrinthe that obviously didn't work very well, and the king who commissioned the work, as punishment, sent Daedalus and his son, Icarus, to his own Labyrinthe to sort of add insult to injury. Because, ya know, if the creator can't escape from his creation, what a stupid moron he would be (and a fitting punishment because Daedalus was renowned for being terribly clever). So, Daedalus decided he couldn't work his way through the maze, and created wings for his son and himself, and they flew away. He warned Icarus to stay low as they flew, but Icarus was so excited by his new ability to fly that he thrust himself skyward and the sun melted the wax that held his feathers on. He fell, died, and his dad survived. There's more to it than that, but meh.

SILENCE, TRAITOR! - 2006-05-10
Irish History - 2006-05-02
Goodbye Bio! - 2006-05-01
DANCE, WATER! DANCE! - 2006-04-26
Gaaaaaah. - 2006-04-24

Credits
Layout was made by
Emerald Ice
for use at
Frozen Ice
.
Image credit goes to
Squaresoft
.